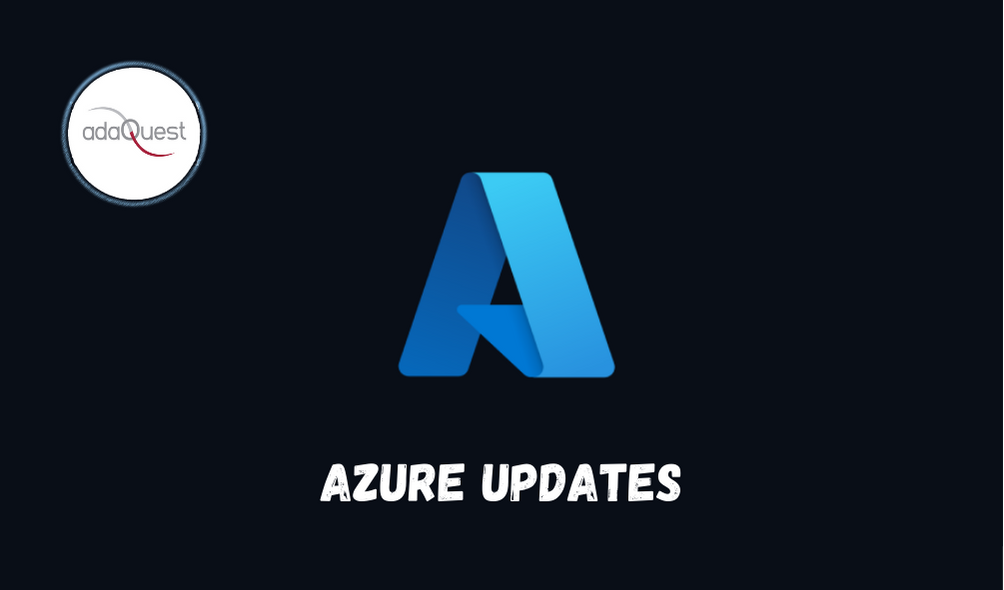 14 Mar

Azure Updates – Feb14-Mar11 2022

Get the latest updates on Azure products and features to meet your cloud investment needs.

Computer Vision Read API for Optical Character Recognition (OCR), part of Cognitive Services, announces its public preview with support for new languages including Arabic, Hindi, and other regional languages with the same writing scripts. It also extends handwritten OCR support for Japanese and Korean, along with enhancements for handwritten dates, names, and amounts and general performance and AI quality enhancements.

Participate in the retail evaluation now to ensure full compatibility. The OS evaluation period for 22.02 provides 14 days for backward compatibility testing.

You can now specify a tag, create or update of AKS cluster to track resource usage.

AKS now meets CIS benchmark standards for Kubernetes.

Take advantage of new features in Kubernetes v1.23.

Hotpatch (reboot-less update) is now in general availability for Windows Server virtual machines as part of Azure Automanage for Windows Server.

Predictive autoscale for Azure virtual machine scale sets can manage and scale your virtual machine scale sets by observing and learning from historical CPU usage patterns.

Migration guidance allows you to move to App Service Environment v3 and take advantage of refreshed infrastructure, better performance, and the removal of the stamp fee found on older versions.

Alert processing rules (formerly action rules) provide post-processing capabilities for fired alerts in Azure Monitor.

Use custom HTML code widget to extend developer portal's functionality.

Azure Functions has an updated Tables extension, now in its own NuGet package

Handle unforeseen disk traffic spikes smoothly without the need to overprovision your virtual machine with virtual machine level disk bursting.

Azure Database for PostgreSQL – Hyperscale (Citus) is now available in the Central US, South Central US, West Central US, and West US regions to distribute your Postgres database.

New compliance certifications are now available on Azure Database for PostgreSQL – Hyperscale (Citus), a managed service running the open-source Postgres database on Azure.

New features now available in public preview include automatic time series ID detection for automation, automatedML model's training code generation, and move Azure Machine Learning workspaces between subscriptions.

The Azure IoT Central homepage has been refreshed with new learning content to help you start your IoT solution development.

Price sheet download experience update for using Azure in a small business environment.

You can now automatically delete disks, NICs, and Public IPs associated with a VM at the same time you delete the VM.

Create restore points in any region and copy restore points from one region to another.

Resource configuration changes, a feature enabling the querying of changes to Azure resource configurations across subscriptions, management groups, and tenant, is now in public preview.

The Azure Purview UX team has localized Azure Purview studio to 18 languages.

Enable frontend mutual authentication and listener specific SSL policies on Application Gateway, now generally available.

Azure Cost Management offers subscription cost anomaly detection within the cost analysis preview to raise awareness and help identify unexpected changes in cost.

Add value and increase cost effectiveness with Azure Monitor logs

Set specific retention periods on AzureActivity and Usage data tables in Log Analytics workspaces, keeping such data for a longer time, while maintaining the workspace retention as low as needed.

Log Analytics data export is ready for production deployments, supporting most tables in Log Analytics workspaces.

Manage your enrollment hierarchy, view account usage, and monitor costs directly from the Azure Cost Management and Billing menu on the Azure portal (for direct enterprise agreement customers on commercial cloud).

Improvements include a new image, multiple hosting plans, better performance, and simplified configuration.

Application consistent snapshot tool is a command-line tool for simplifying data protection for third-party databases in Linux environments.

Azure NetApp Files is now available in an additional Australia region and supports a new cross-region replication pair.

Monitor every step of your cloud journey with the integration of Azure Spring Cloud logs and metrics into Elastic and instrument Spring Boot applications.

Azure Spring Cloud Enterprise includes fully managed VMware Tanzu components to help you ship faster as well as long term support for Spring projects to unlock Spring's full potential.

The feature that allows you to configure multiple backups per day for Azure Files via backup policy is now generally available.

The Azure IoT Central navigation menu has been updated to make it easier to find product capabilities. Pages have been re-ordered, re-grouped, and re-named to align with common tasks.

Benefit from new features and enhancements in OpenShift release 4.9.

Data stewards can now certify assets that meet their organization's quality standards in the Azure Purview data catalog

Utilize new aggregation pipeline functionality and client-side field encryption with Azure Cosmos DB API for MongoDB version 4.2.

The 22.02 release includes new and changed features in the OS and the SDK.

Azure Backup now acquires a lease on the snapshots taken by scheduled/on-demand backup jobs.

Azure Form Recognizer now supports extraction from custom documents, W-2 forms, access to the read API, additional human languages and enhancements.

Use the new SKU recommendation support in the Azure SQL Migration extension in Azure Data Studio for Azure SQL Managed Instance and SQL Server on Azure Virtual Machines.

Public preview enhancements and updates released for Azure SQL.

Public preview enhancements and updates released for Azure SQL.

Use Azure Synapse Spark 3.1 to partition your Azure Cosmos DB data in analytical store for improved query performance.

Configuration file now allows you to specify version for supported API language runtimes.

You can now use Azure IoT Central in South Central (United States) and Canada Central (Canada) to build reliable, scalable, and secure enterprise grade IoT Solutions.

The Azure Percept February update includes fixes related to security.

Minimize API attack surface for SOAP or XML- based REST APIs with custom schemas in addition to the schemas specified in the API's definition.

Subscribe to daily, weekly, or monthly updates of your saved cost views in Azure Cost Management to stay informed about changes in cost.

Azure Chaos Studio has new faults available for denying access to a Key Vault and shutting down a Classic Cloud Service.

Trusted Launch VM Backup support from Azure Backup helps to protect Trusted Launch VMs which improves the security of generation 2 VMs in Azure.

You can now manage approvals for business terms or self-service data access requests for your entire data estate without having to use manual controls like emails or worksheets.

Integrating Site Recovery with capacity reservation to reserve compute capacity in the disaster recovery region and use that for failover.