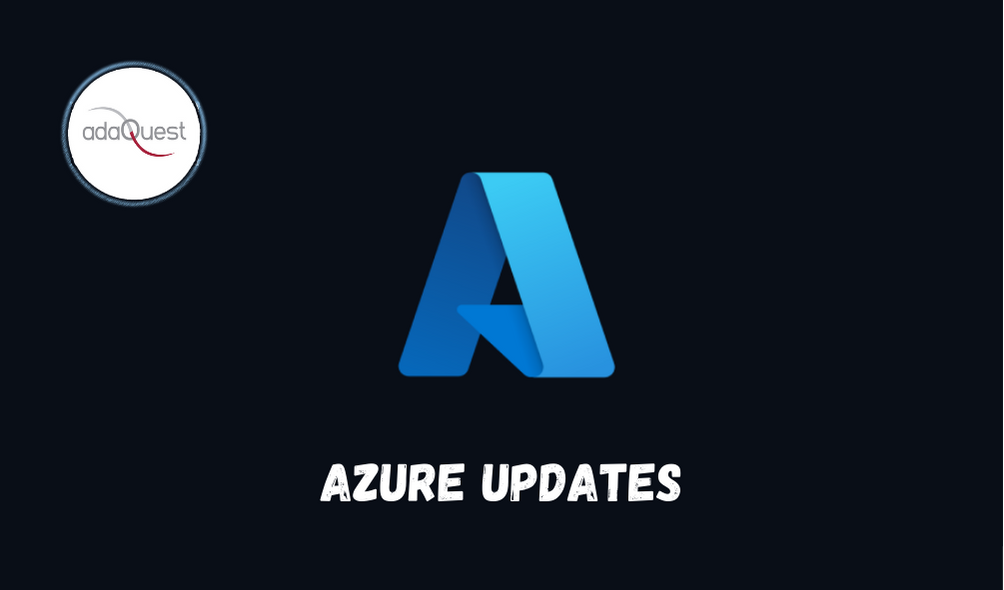 22 Nov

Azure Updates – November 15-19 2021

Get the latest updates on Azure products and features to meet your cloud investment needs.

With VM Applications, you can create and securely store application packages in an Azure Compute Gallery. Package management is greatly simplified with logical grouping and versioning capabilities and packages can be shared with other users in your organization, across subscriptions, and tenants.

Azure VMware Solution has expanded availability to Japan West. With this release Japan West is now the second region within the Japan sovereign area to become available (joining Japan East).

With NFS (Network File Share) on Azure Files, you can now deploy fully managed, POSIX compliant, distributed NFS file shares in your production environments for a wide variety of workloads.

Azure is now available from our newest sustainable datacenter region Sweden Central.

The updated Run Commands are now management orientated, allows to run multiple scripts, track their progress and define Run Command resources in ARM templates to automate VM deployments.

Azure Availability Zones are now generally available in the East Asia region. These three new zones provide you with options for additional resiliency and tolerance to infrastructure impact.

Azure API Management is now available with new updates such as support for managed identity authentication for communication with Application Insights, ability to import Container App as an API and more.

Mapping Data Flows provides scale-out data transformation in the cloud in Azure Data Factory and Azure Synapse Analytics. With these additional connectors, you can build ETL patterns at Spark scale in a code-free design environment without ever touching the Spark compute. Azure Integration Runtimes allow you to define the Spark environment and provide a serverless Spark compute for your data transformation pipelines.

Azure Blob Storage is the only storage platform that supports SFTP over object storage natively in a serverless fashion, enabling you leverage object storage economics and features with legacy workloads that use SFTP.

Azure Spring Cloud now lets you start and stop your applications to reduce costs, bring your own persistent storage for logs and dumps, and connect your apps with Azure services more easily using Service Connector.

With the integration of AppDynamics in Azure Spring Cloud, developers can keep using a popular and familiar application performance monitoring (APM) tool to monitor Spring Boot applications.

The newly released virtual machines selector lets you quickly find the Azure VMs and disk storage options that meet your requirements. Localized in 26 different languages, the tool guides your selection based on workload categories, operating systems, and Azure regions of your choice. The virtual machine selector is integrated with the pricing calculator.

New features now available in public preview for Azure Machine Learning include test AutoML models and calculate test metrics, support for storage account IP firewall, and new pipeline capabilities using CLI v2.

The new feature in general availability for Azure Machine Learning includes deploying with pre-built Inferencing docker images.

JetStream Disaster Recovery is now generally available on Azure VMware Solution, enabling DR protection for VMware based business applications. JetStream Disaster Recovery for Azure VMware Solution is also cost-effective, leveraging Azure Blob Storage to minimize resources at the DR site.

You can connect Azure SQL to Azure Functions more easily with input and output bindings, now available in public preview.

Azure VMware Solution has now expanded availability to France Central, this update is in addition to the existing availability multiple Azure regions in US, Europe, Australia, Japan, UK, Canada, Brazil and Southeast Asia (Singapore).

HDInsight is now available in more European regions, Sweden Central.

Confidential computing DCsv3 and DCdsv3-series virtual machines (VMs) are now available in Europe West and Europe North.

VPN Gateways can now support up to 100 Site-to-Site/VNet-to-VNet connections for some VPN Gateway SKUs.

Expanded options for autoscale for Apache Spark in Azure Synapse are now available through dynamic allocation of executors.